Old Men with too much time and beer on our hands!
Lake Scott 41st Annual Show.
Oct 08, 2020
The 41st Annual Scott City, Kansas show came off on time with a beautiful weekend and 130 cars. We started on Friday August 15, 2020 with a free feed for the early arrivals: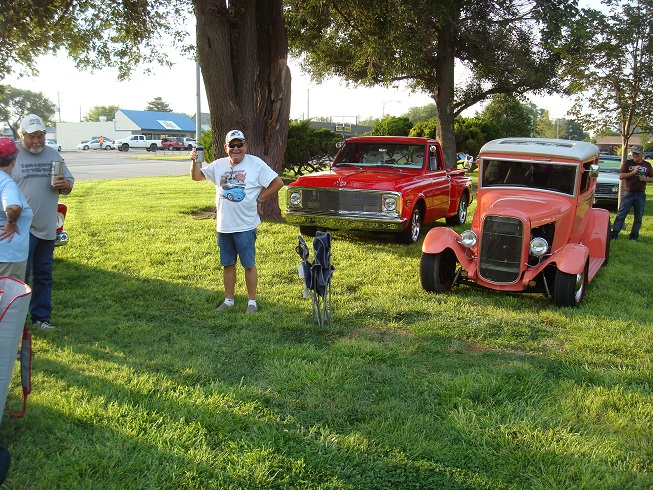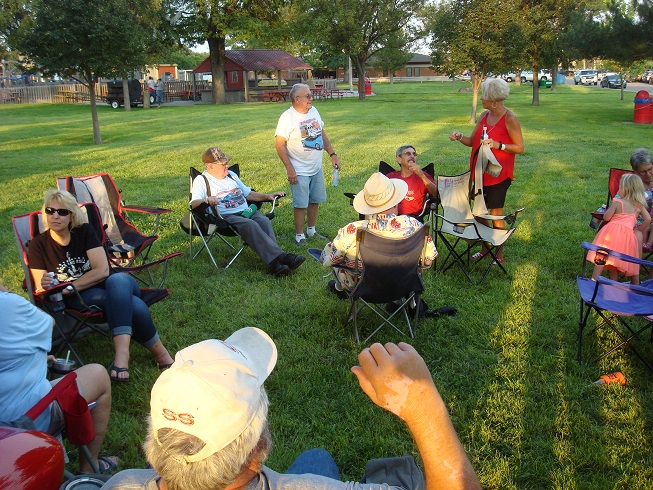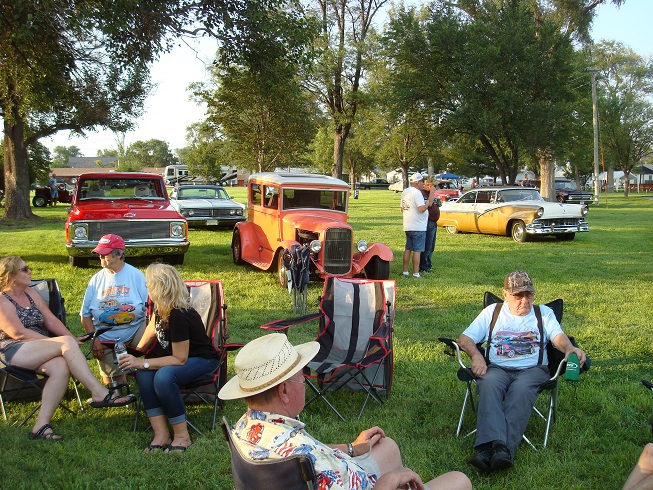 As you can see Ricky Morgan. the Peltons, Vonleonrod's, Brandts', Steve Brooks, Sharp's and ect. were there for free food Friday. We even saw Steve Brooks' model A, "Brooks Justice" surprisingly pink in color, it has been a prisoner in Texas for many years.
Saturday is always the big day, take a look.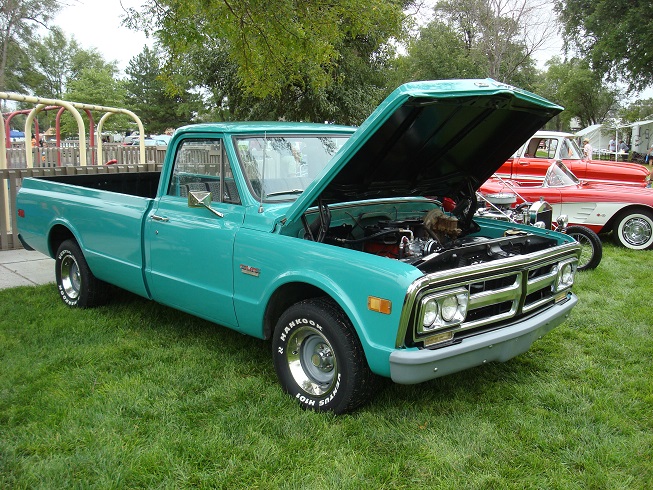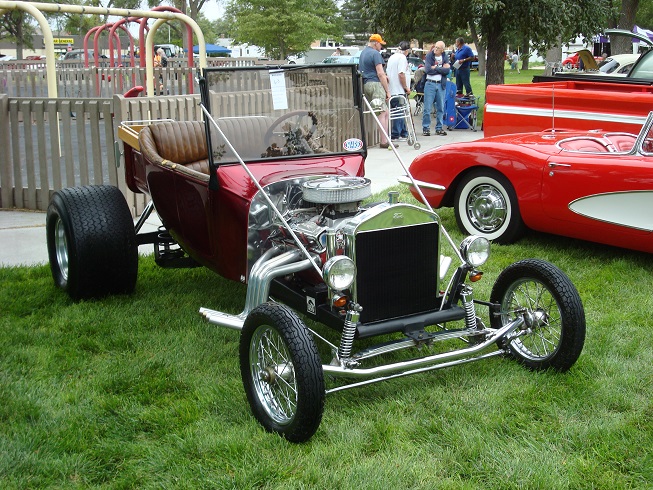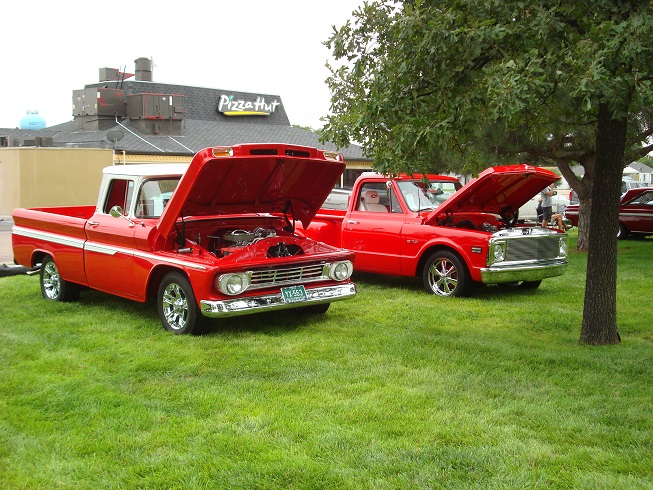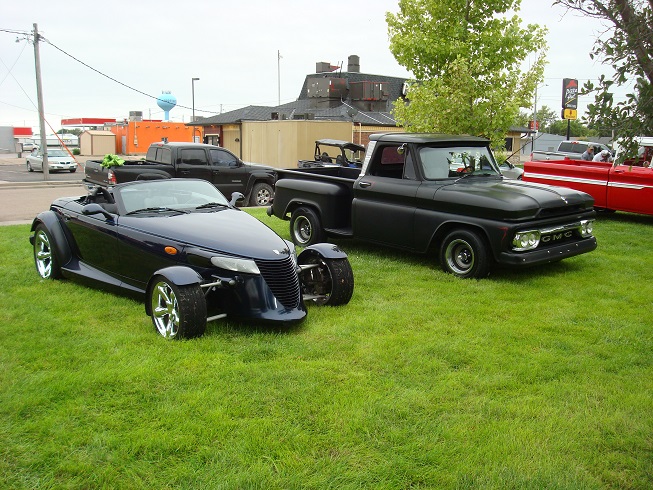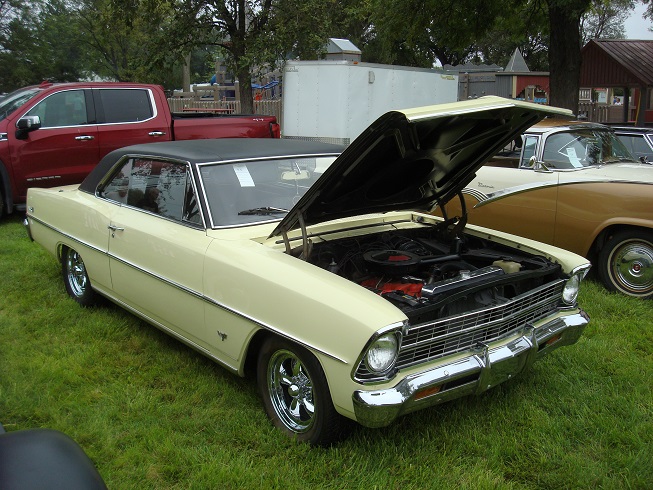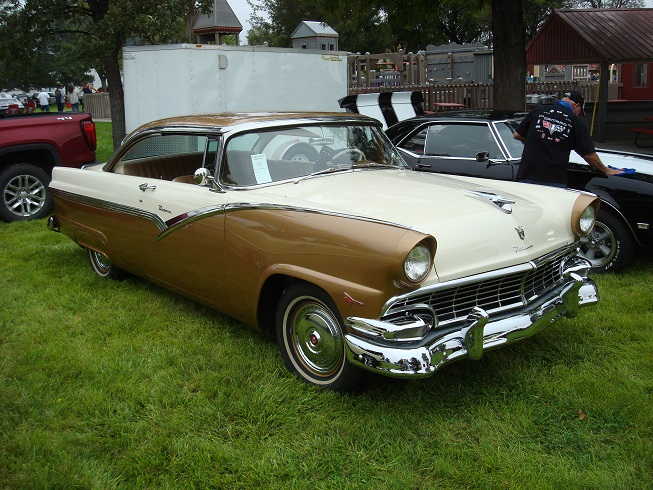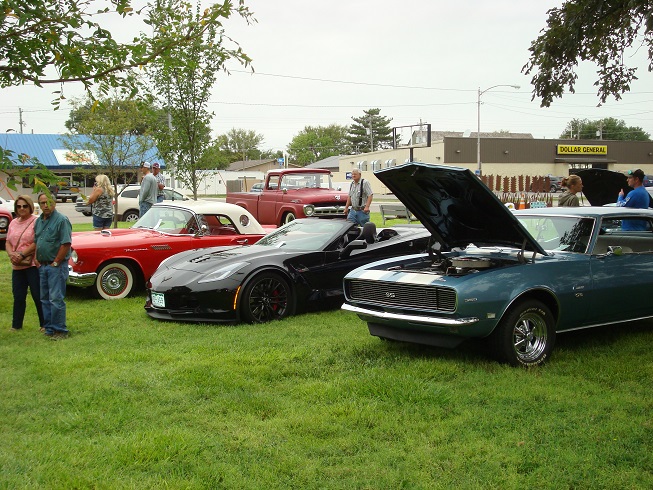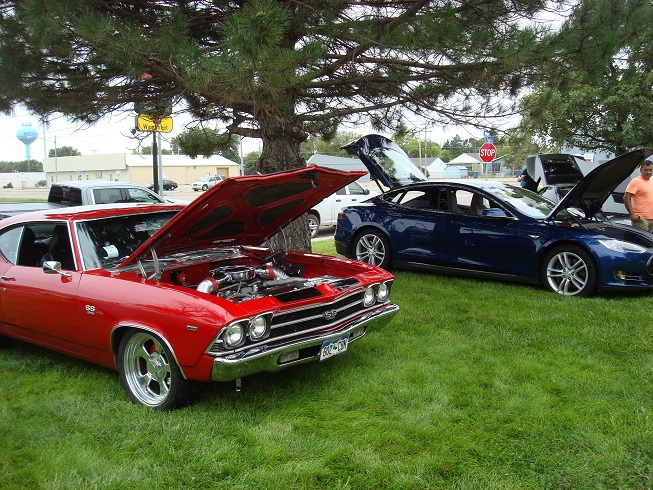 Can you identify the electric car????? That be a battery powered Tesla in the background the Red one in the foreground is electrifying but not electric.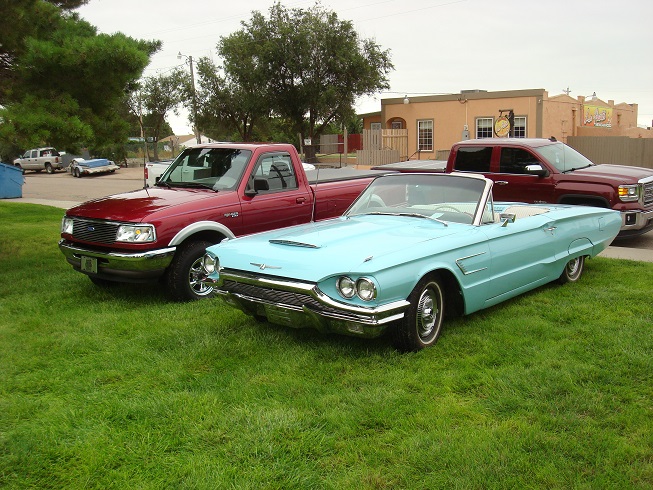 I was glad to see Larry Hoeme brought the T-Bird that he found up north. By the way the pickup next to it is for sale.
Check out Ron Murphy's Chrysler, can you get lower? Actually, it has gotten lower since this pix.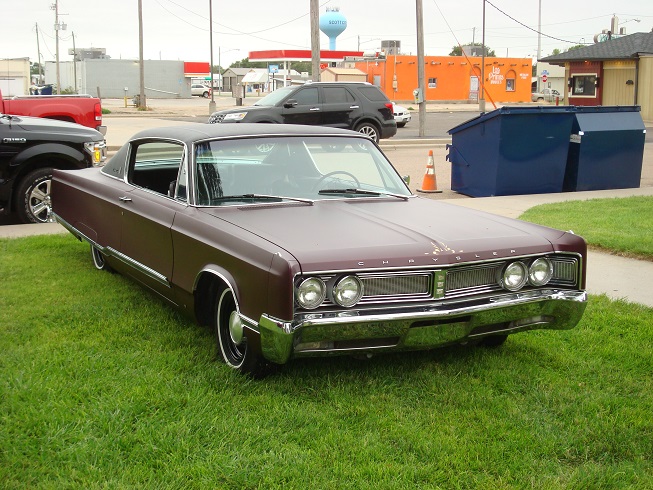 We met some new folks from Texas. Leann and Steve from Farnsworth.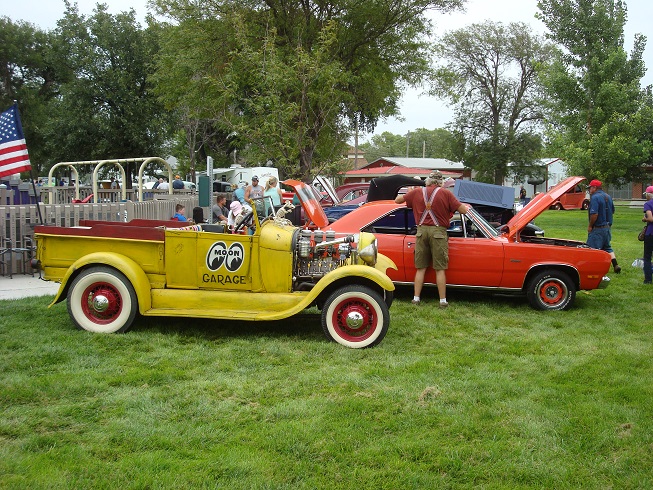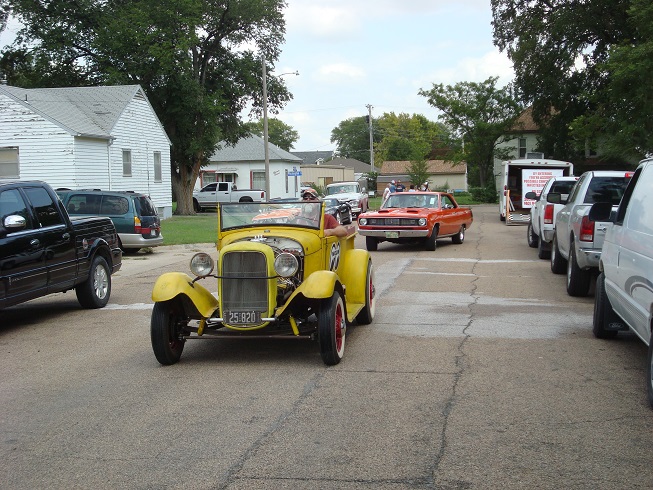 Those Farnsworth people enjoyed the city park and went to the State Park with 70 other cars.
An old friend "Gary Reppart" came to see us.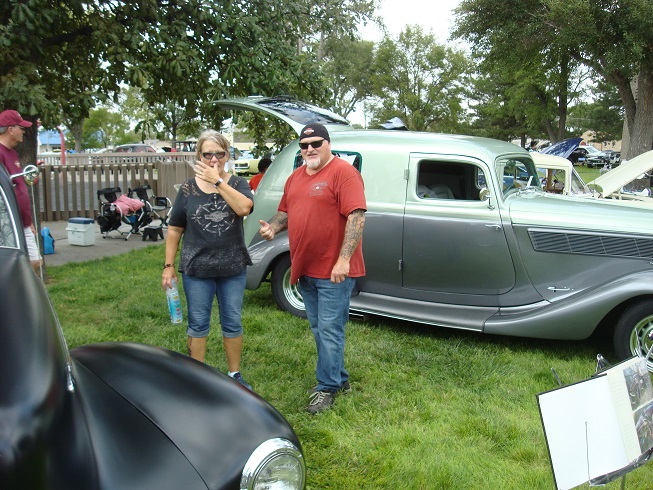 We had the same old DJ.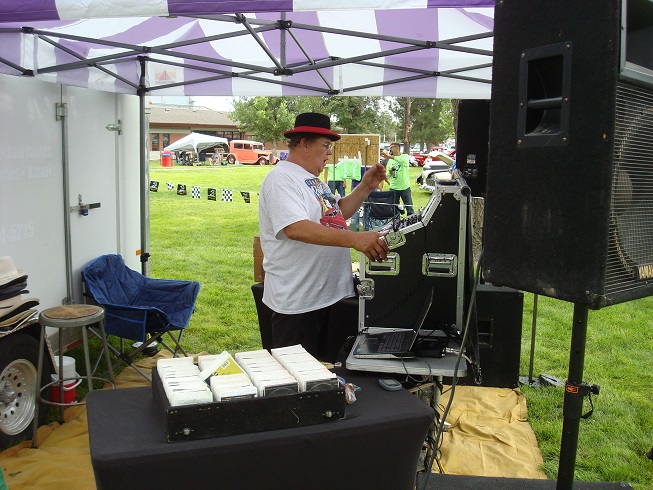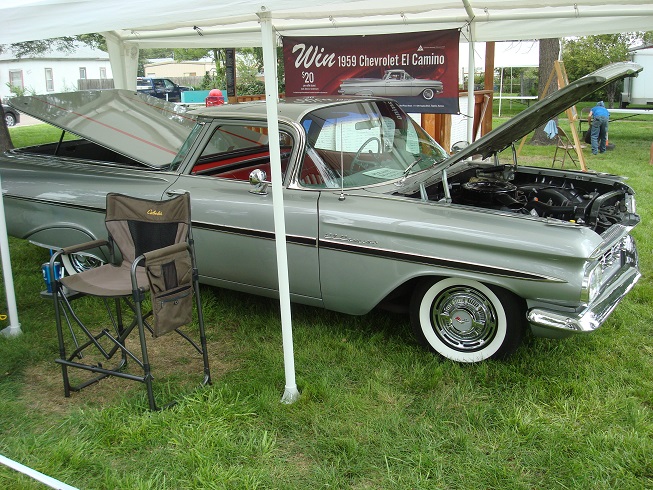 It has become an annual event for the Shriners to show us and sell raffle tickets on their latest aquisition.
Lets walk around for a while.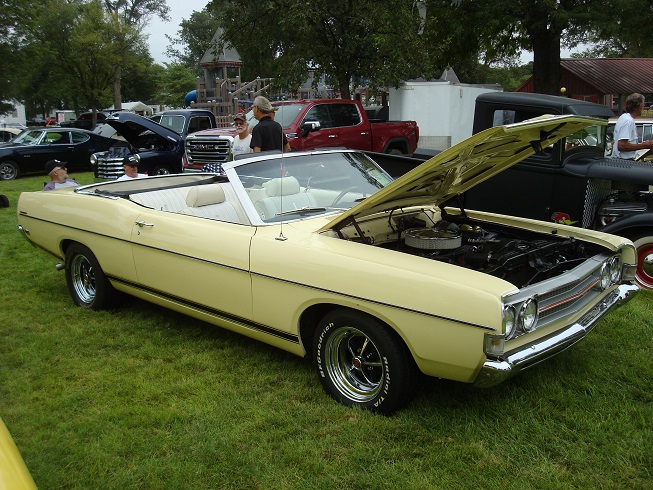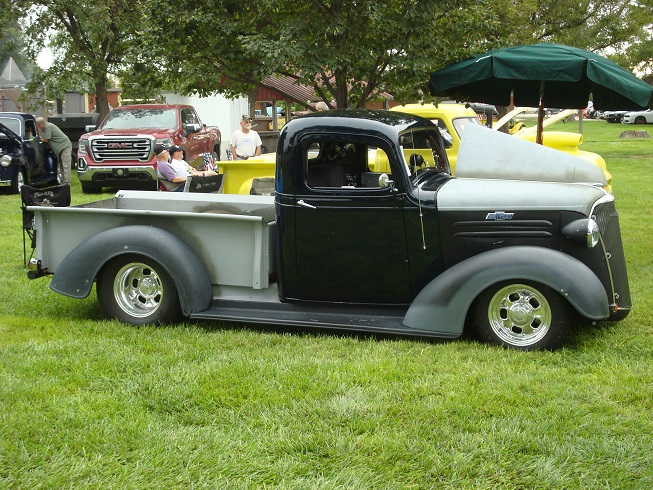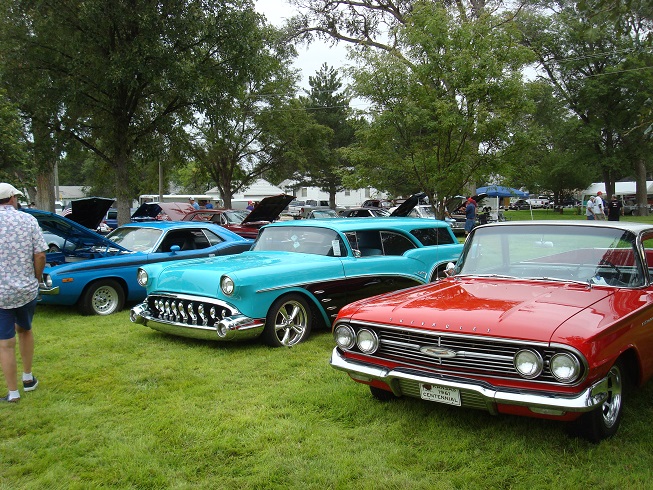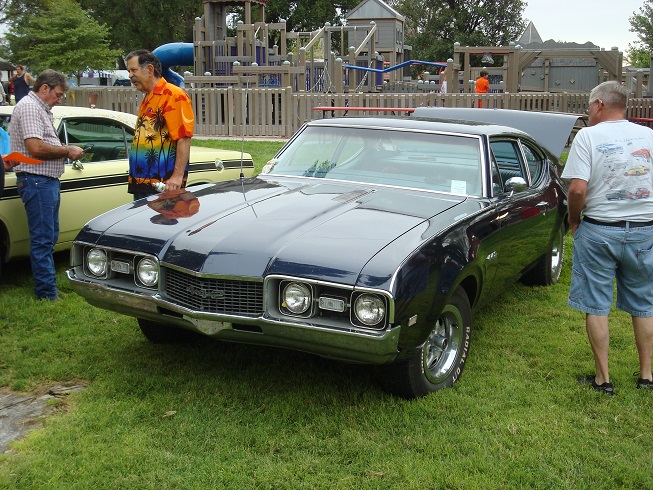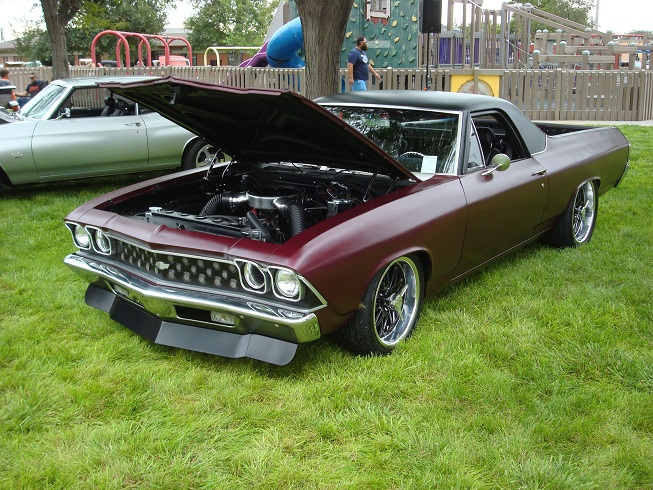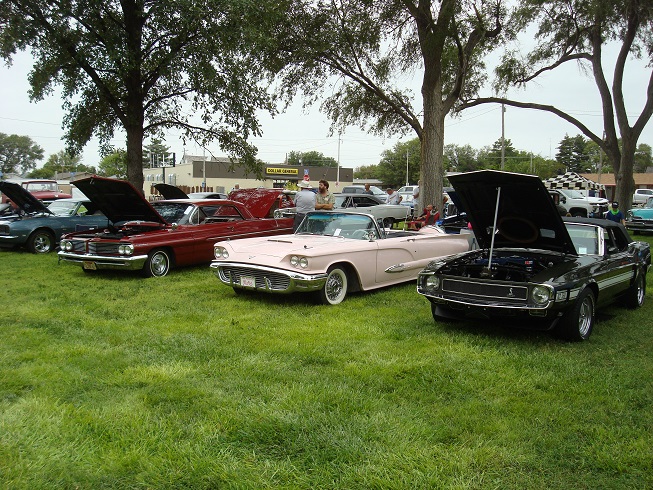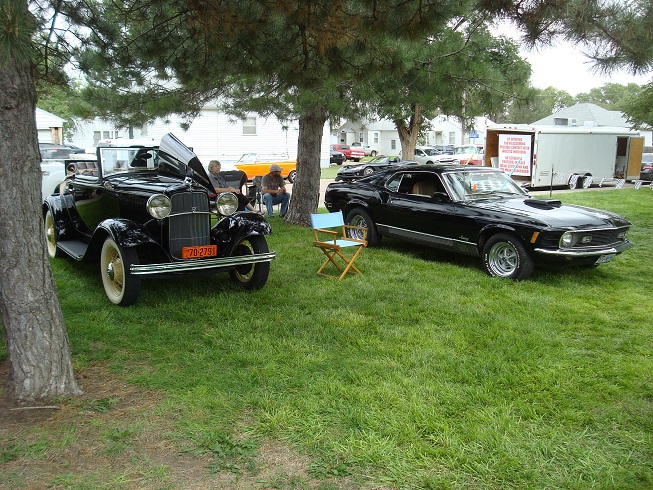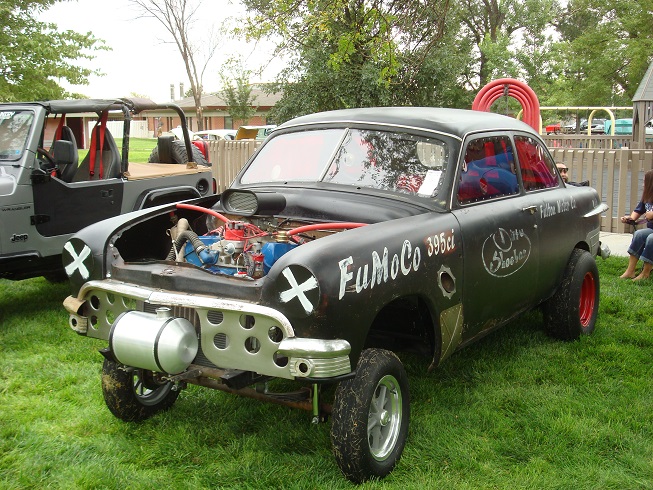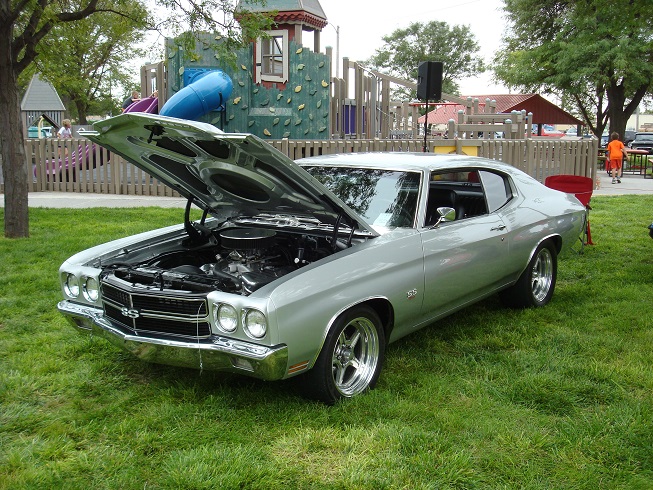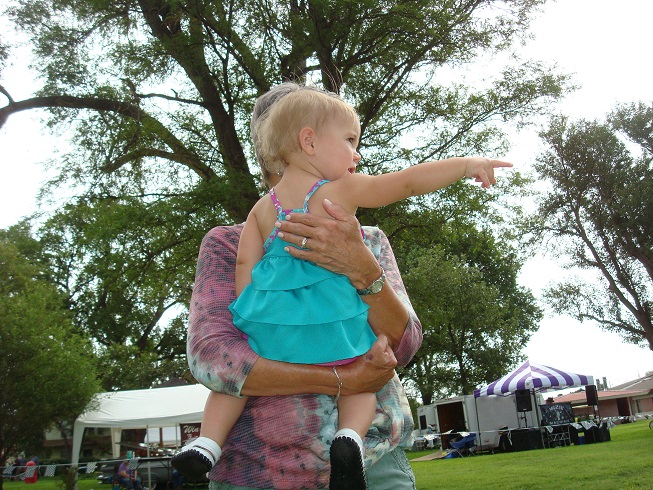 Grandma and new grandbaby went to see and point at all of the cars!!!!!!!!!!!!!!!!!!!!!!!!!!!!!!!!!!!!!!!!!!!!!!!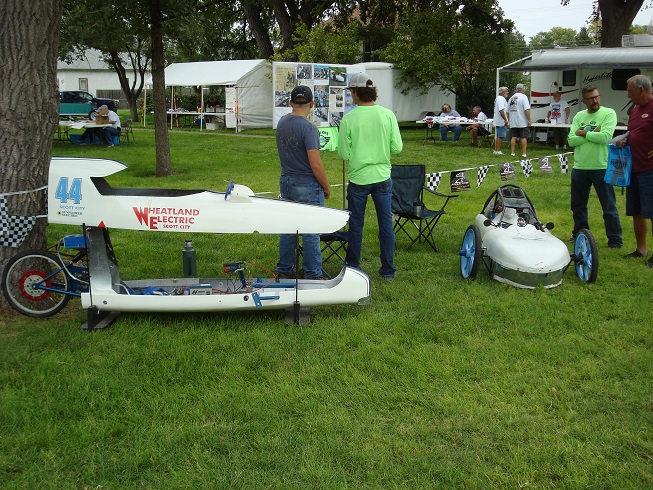 Scott Community High School brought their electric race cars.
There was some Garden City talent we will see in a few weeks. All Top 30 Winners.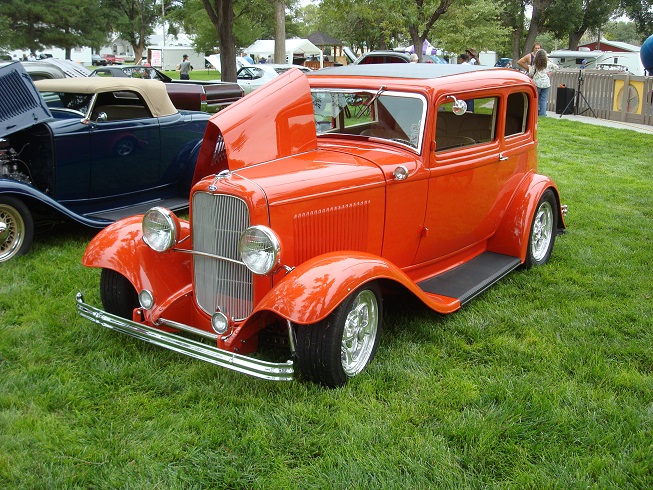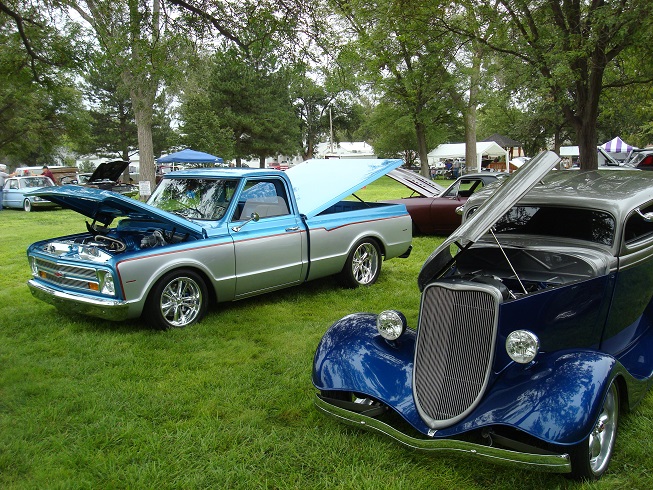 Smith, Kleystuber, Frick and Frick.

Two new cars and people to the Lake Scott Car Show. To the left a 37 Studebaker with the addition of some PT Cruiser parts on the back end. (Bruce Prentice, Ottawa, Ks.). To the right 1955 Chevy (Ron Moore, Derby, Ks). The Studebaker was Participant's Choice and the 55 was in our top 30.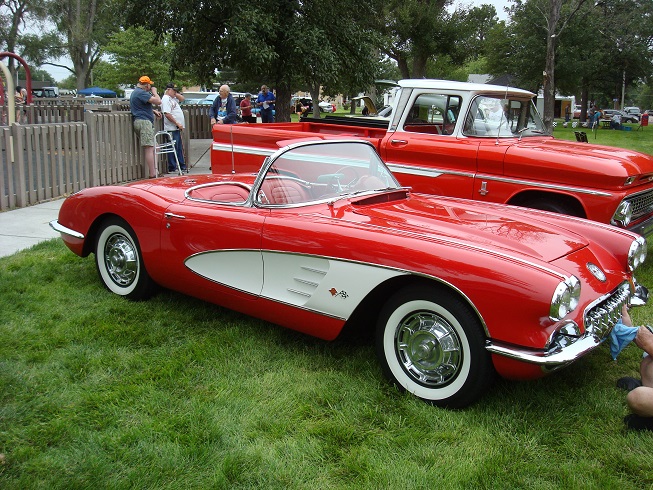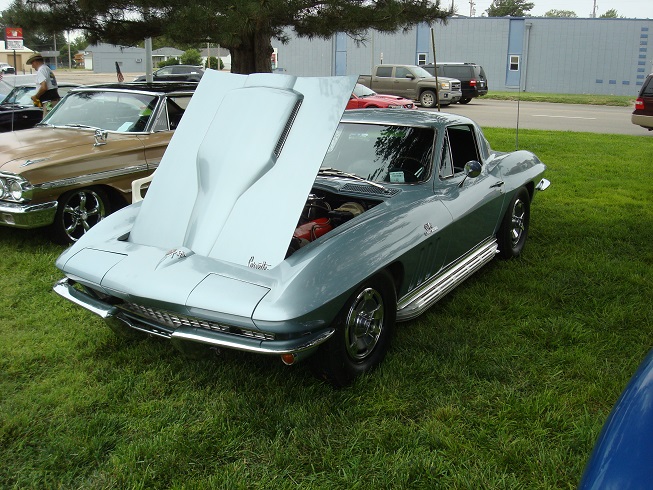 Yes we had Corvettes. The light Blue 1961 above on the right was a winner. Leroy Russell, Beatrice, Neb. received a Top 30 Award.
Mark and Sheila Vonleorod, honored us with 3 of their favorites: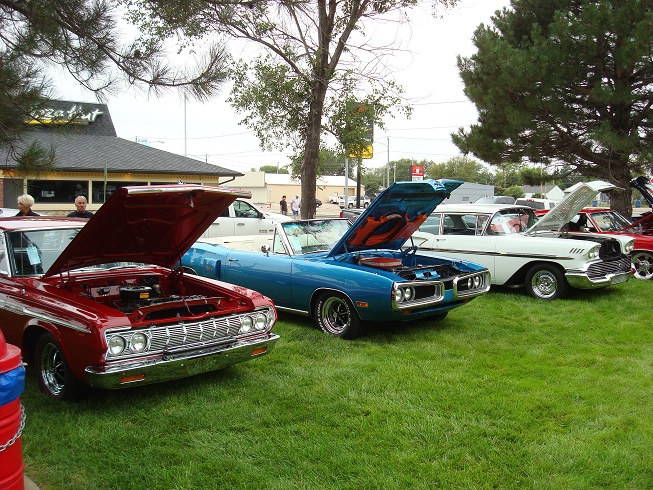 Left to right: 1964 Sport Fury, 1970 Dodge Convertible, 1958 Chevrolet.
Don Billinger, of Canon City, Colorado showed his art, only he could fit in: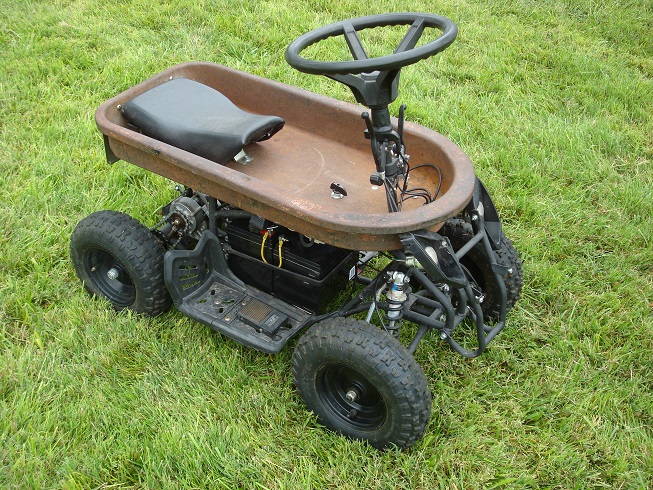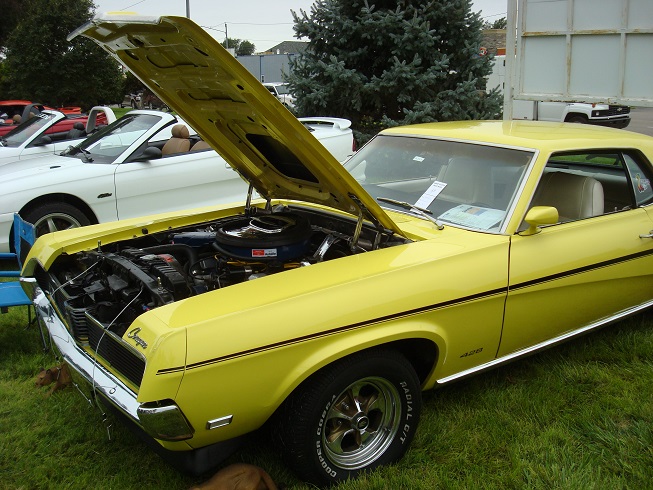 How about a 428 Mercury Cougar Eliminator brought to us by Chandler Allen of Scott City, Kansas.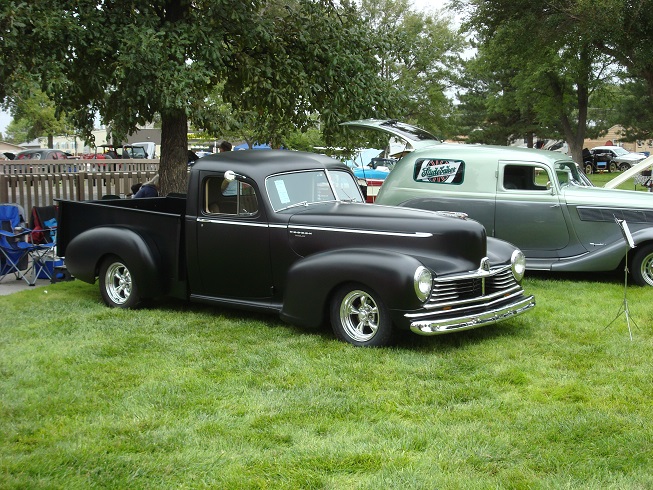 Our freids from Salina, Dody and Mick Franklin, brought their 47 Hudson and took home a Top 30 trophy.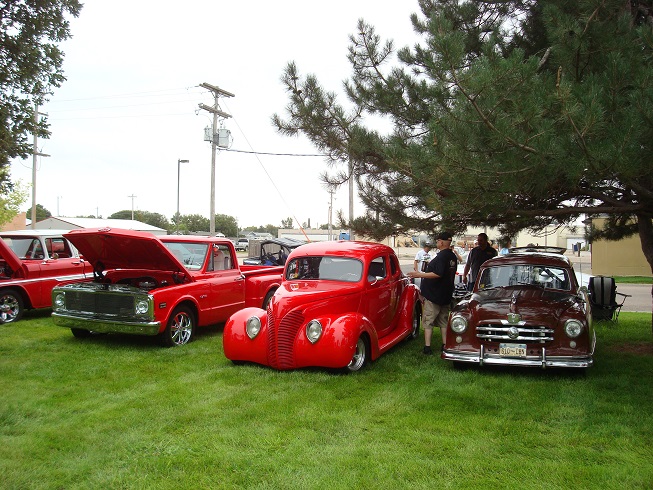 To the right Cook and Grett from Lamar, Colorado. Both of those cars left with a Top 30 Award.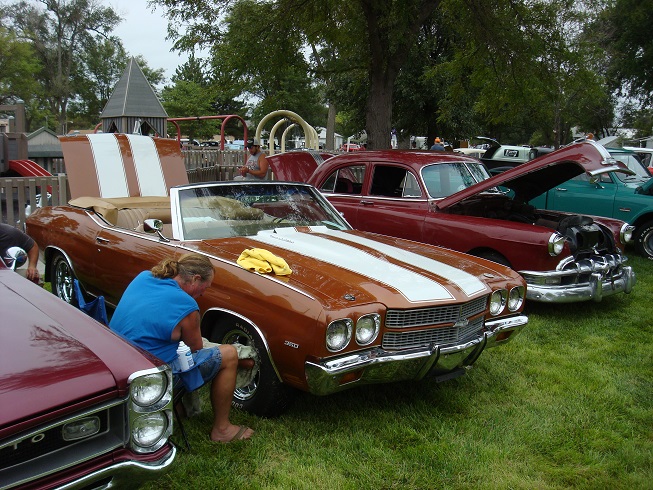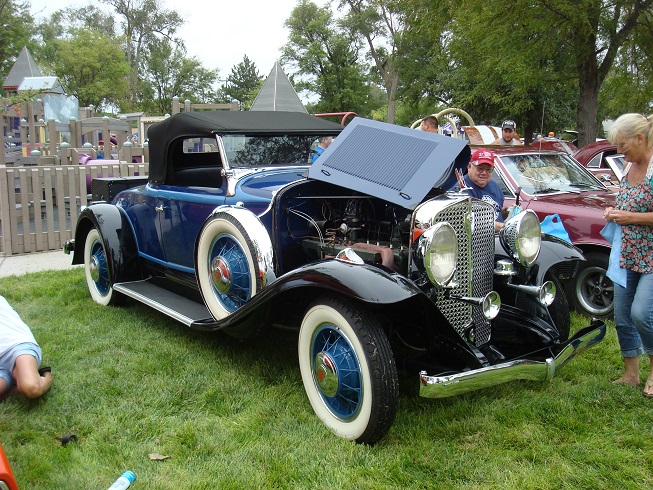 Dan Lewis is actually cleaning, with him came Jay Lewis and Bill Jones. By the way Jay Lewis of Hoxie, was crowned a HORSES ASS at this show. Not to mention the Bill Jones 31 Studebaker was a Top 30 winner.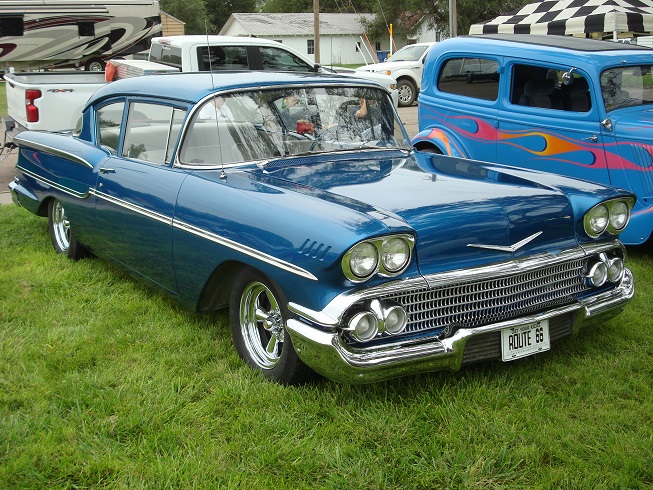 We have seen this 58 Chevy, Mike Duerksen, Hillsboro, Kansas, many times and I expect it will be back again.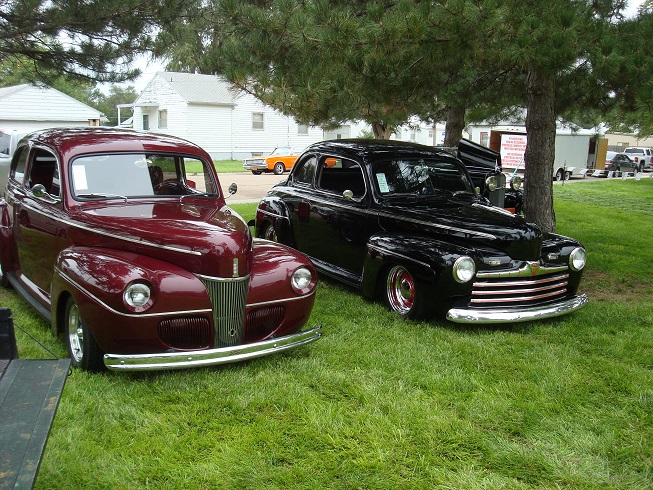 Harold Bettis from Hays showed up and brought a friend.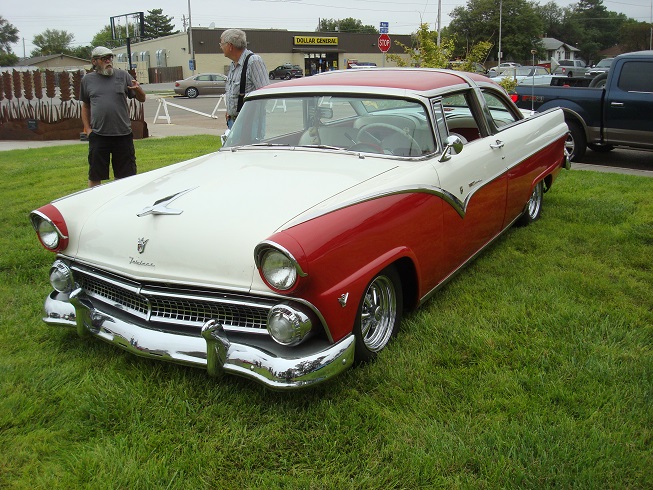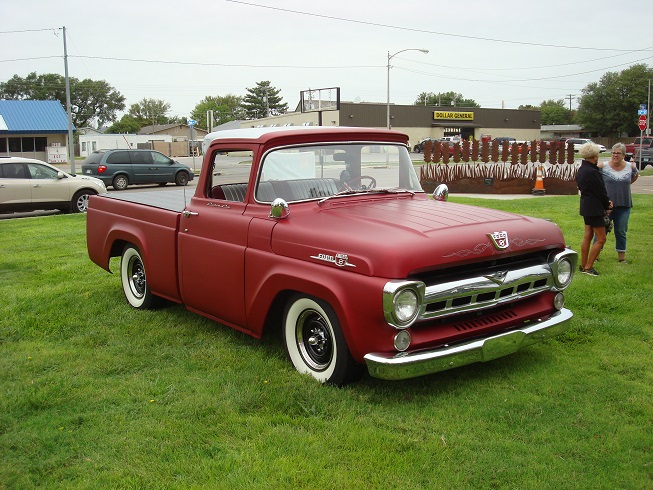 The Garden City, Gill Brothers were there with a couple of my favorites. The Crown Vick was the Bucky McComb pick for 2020.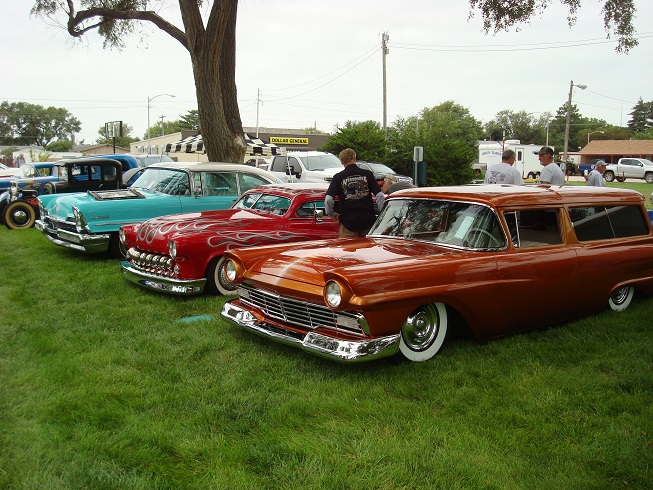 Lets end this one with 3 of my favorites: Adam Horinek, 1957 Ranch Wagon (Top 30), Ross Rodenbeck, 1950 Mercury (Top 30) and Bruce Flipse,1957 Lincoln.
I will be doing Limon, Colorado, Great Bend, Kanas, Go Away Rick, Garden City, Russell, Larned and Wichita.
Comments
Topics
---
Archives
---
Favorite Links
---
---