2017 OAKLEY, KANSAS
Jun 12, 2017
We headed to Oakley, Kansas on June 9, 2017 to attend a Cruizin at J&E Auto. We joined approximatley 48 other cars and listened to the music and storytelling. At 8:30 they had a Cruse Down Main Street to the delight of over 100 (estimate) onlookers. My 37 Chevy failed me and would not complete the entire cruise but fortunatley stopped right in front of the Beer Joint. The next day we saw approximatley 80 cars:
Here is a row of cars beginning with an AMX and including a Pontica Tempest, Ex Camino, Ford Retrac and a 1955 Ford Pickup.
Here is row starting with a Lincolin a including a Corvette, Buick, Firebird and a Challenger. Below you will see my favoite, a 1959 Mercury Turpike Cruiser, when Detroit built real cars with class and lots of chrome. Also do not miss the 1947 Ford right next to it.
Mark Vonleorod brought another one of his fleet. Take a look at the 1957 Chevrolet he purchased last year at the Denver Mecum Auction.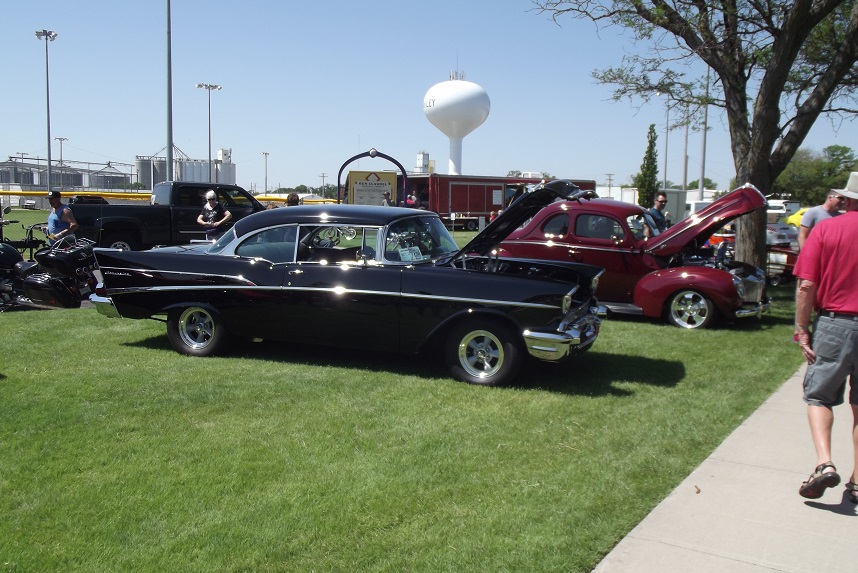 As you can see they made the HORSES sit in the corner of the park. 1954 Canadian Pontiac, 1975 Chopped Top Pickup and 37 Chevy Coupe,

Chuck, Steve and Jake found and crowned a new HONORARY HORSES ASS. His name is TRAVIS THRASHER. He is from Oakly, Kansas. His name will go down in infamy. When or "if" you see him, you should express express your congrats or sympathy.
Here are two more rows of cars. The first starts with a 1959 Mercury Parklane Convertible. Another car with class.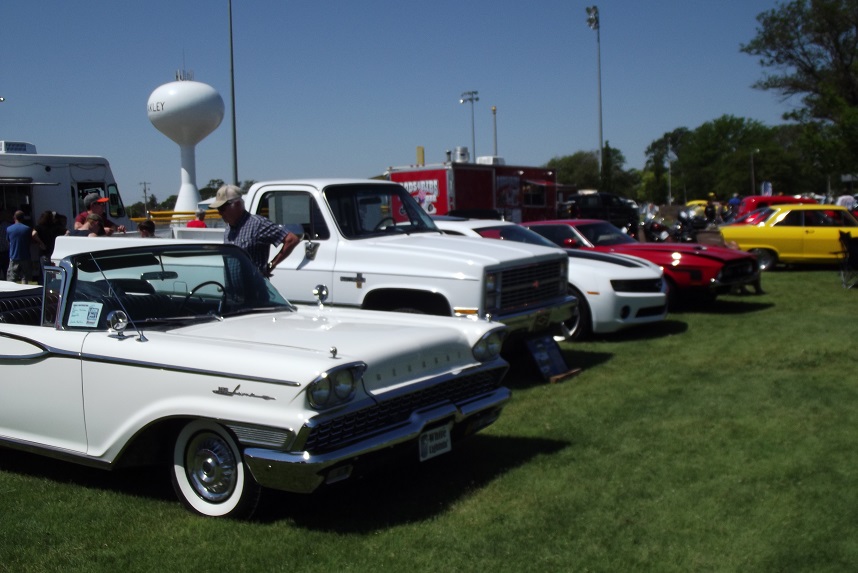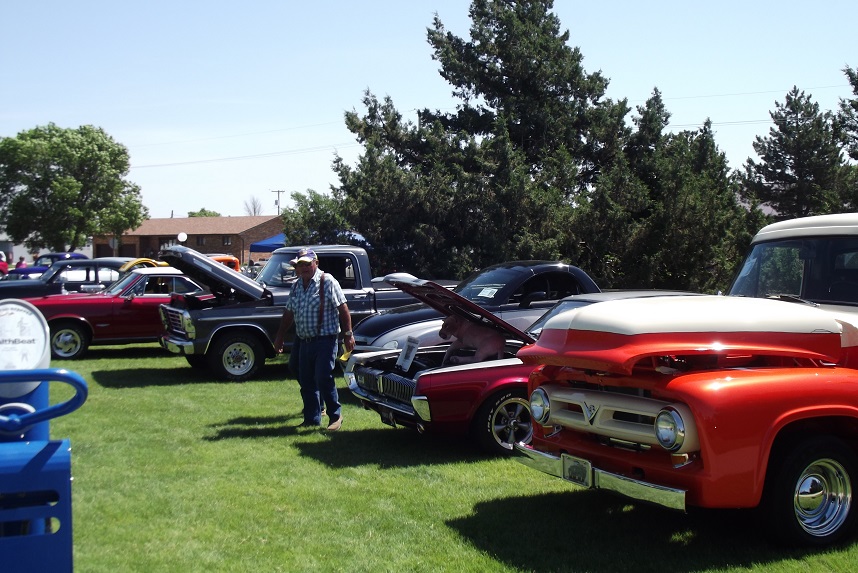 In the middle of the next group is a C Cab. This is rare car and has been around for many years. Hopefully it shows up at Scott City, Kansas in August.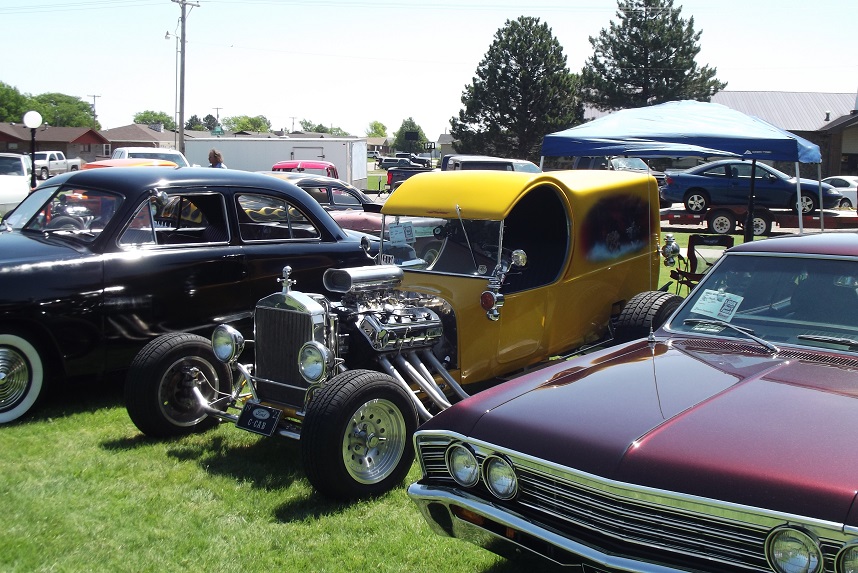 Now I will show you a beautiful old Ford Pickup which is shown by BOB SPROUL. Bo was named an Honorary Horses Ass in Norton, Kansas in 2011. Being named a Horses ass does not kill you but it may make you sick for a while. Watch out Travis.

Present were a couple of Caddys from the 30' and 50's. These are very well done and belong to the Wagoner's of Colby, Kansas.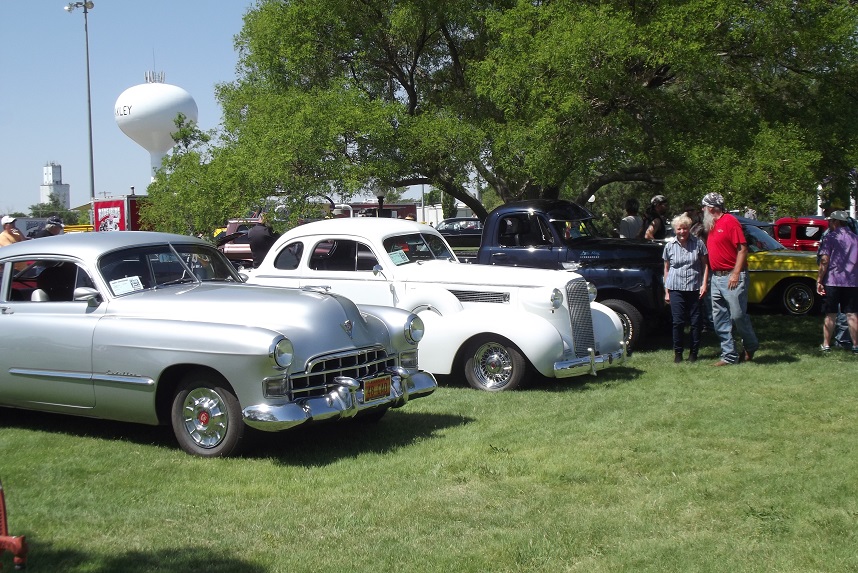 The TV show STREET RODDING AMERICAN STYLE was present doing interviews. We should all breathlessly await the appearance of Kenny Snow on their show in April 2018. This airs at 5:30 on every Sunday on the local PBS.
This is not nearly all cars that were there but all the time I have. You will see us in Dighton or Garden CIty, Kansas next Saturday, June 17, 2017. You should protest yourself the best you can.